Last updated on 16 june 2022 by CellSpyAustralia
The idea that young people use social media apps like Kik is not new. The question on everyone's mind, though: what can we do about it? If your child has been accessing this messaging service without permission from you-or even worse -you don't know how much information they're sharing with their friends in these texts! It would seem there isn't one thing " Parents" as a whole are aware of when considering digital safety for our kids; but fortunately help may be just around the corner…
I have shortlisted 3 Kik Hack tools here which will allow them access while still remaining safe themselves so check out my list below
Is It Possible to Hack a Kik Account?
Hacking a Kik account is not too difficult, but there are some basics that you should know. You can use either keyloggers or apps to track and upload chats from your target device's WiFi connection once they've been logged into their own phone with the victim's permission (or otherwise).
It is important to know the basics of hacking Kik accounts because there are so many online tools available. You can either install a keylogger on your target device or use an app that will track everything they do in real time and upload their chats for you after capturing them from live video feed directly into our server!
You can also try a dedicated password hacker for Kik, but be aware that most of the online tools will only ask you to complete surveys. They aren't genuine solutions and would waste your time/resources instead!
The 3 Best Kik Hack Apps (No Survey Needed)
There are many gimmicks in the app store, but I have picked three tried-and tested kik hackers that will help you get what's yours.
1. mSpy: The Most Advanced Kik Hack Spy Tool
If you are looking for the best Kik hack app, then consider using mSpy. While the app runs on all the leading iOS and Android devices, its Kik hacking tool is only supported by Android phones as of now.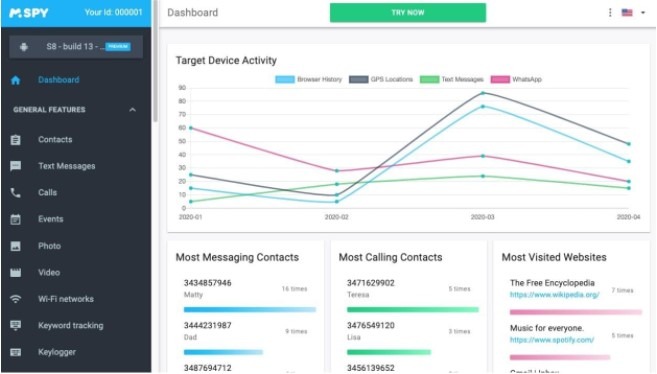 You can see every one of the sent and got messages on their Kik Messenger by visiting your mSpy dashboard.
Insights regarding the Kik contact and the timestamp for each Kik message would likewise be incorporated.
Not simply texts, the Kik programmer application would likewise allow you to see the traded media records (like Kik photographs or recordings).
The mSpy tracker likewise incorporates a keylogger that would function as a magnificent secret word programmer for Kik.
You can likewise utilize mSpy to follow other IM and social applications like Messenger, Facebook, WhatsApp, Skype, Snapchat, from there, the sky is the limit.
The mSpy Kik hack application is incredibly simple to utilize and furthermore upholds a secrecy mode (to keep an eye on a client without being identified).
To learn how to hack a Kik account (with no survey), you can use mSpy in the following way.
Step 1: Create your mSpy account
To use the mSpy Kik account hack, you need to create your account first. For this, just go to the official website of mSpy and create your account. You can also select the type of target device.
Please note that as of now, the mSpy Kik hack tool only supports the tracking of Android devices.
Step 2: Install the mSpy Kik Hack App
Great! Once you have created your mSpy account, you need to access the target Android device at least once. Afterward, unlock their Android device, go to its Settings > Security, and enable the app installation permission from third-party sources.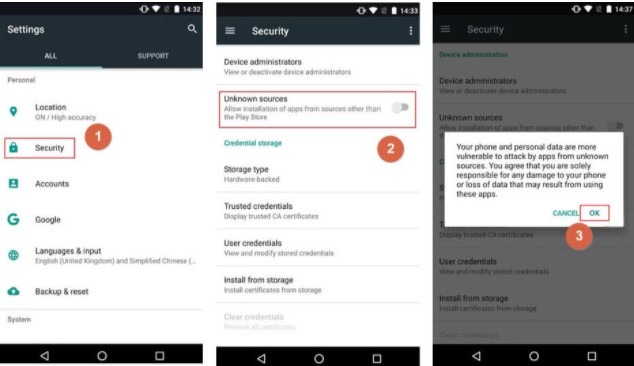 Besides that, you can also go to the Google account settings on your phone and disable the Play Protect real-time scanning option.
Now, just go to the website of mSpy and install the APK of the Kik hack tool. You can later install the Kik hacking app on the device easily. Once the Kik hacker app is installed, launch it, and log in to your account. Make sure that your grant the mSpy app the vital permissions and enter your registration code at the end to authenticate your account.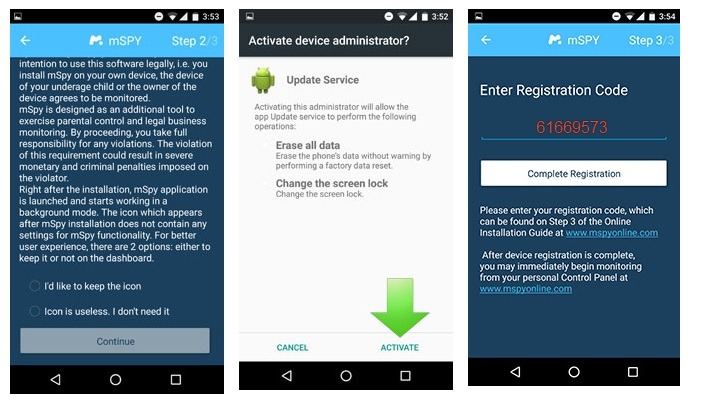 If you want, you can choose to run the mSpy Kik hack app invisibly on their device by enabling its stealth mode.
Step 3: Start Tracking their Kik Messages
Well, that's it! Once the installation of the Kik account hack is done, you can go to your mSpy dashboard on any device. Just log in to your account and select Kik from the list of the available social apps on the sidebar. This will display all the recorded Kik conversations, letting you hack their Kik messages remotely.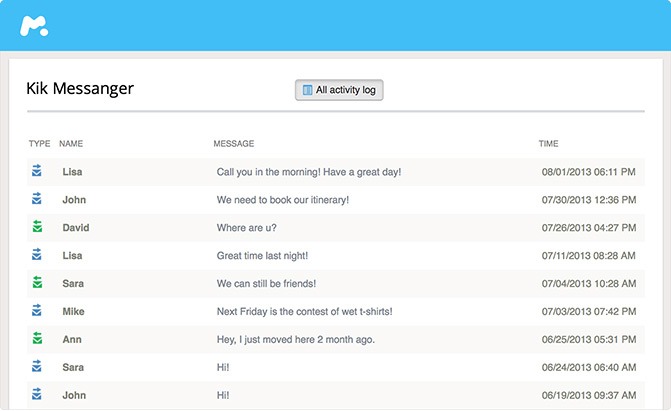 2. uMobix – The Best Kik Hack Tool for Android Devices
uMobix is a great tool for tracking your target Android device. It has features that let you monitor just about every social app out there, making it easy and convenient!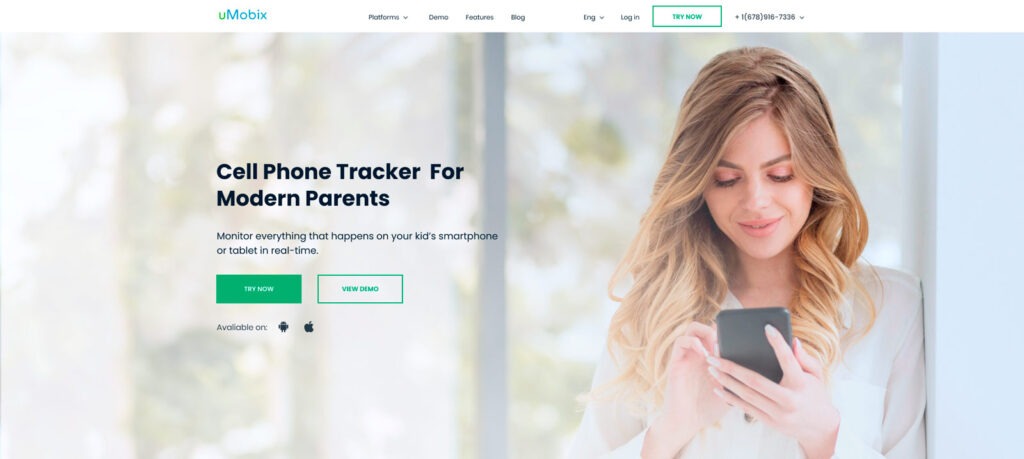 The Kik hack app uMobix hack app will monitor all your sent and received messages on the popular messaging platform, Kik.
This will include all the information you need to know about a specific conversation, like when it happened and who was involved.
The uMobix Kik hack tool would also include the shared attachments (like photos, videos, documents, etc.)
You can spy on other popular apps using uMobix like WhatsApp, Viber, Skype, LINE, WeChat, and more.
Other features of this Kik hacking app are keylogger, live location tracking, and a smart stealth mode.
The targeted user will not know that you are tracking their Kik and you won't have to root their phones as well.
3. Cocospy – The Best Kik Hacker App for iOS Devices
Lastly, Cocospy can also be considered a password hacker for Kik on iOS devices. Though you need to enable iCloud backup and know your account details in order use this hack tool effectively .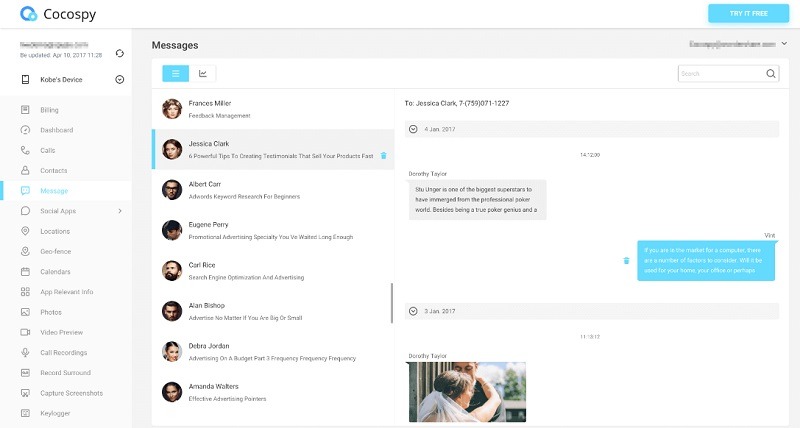 You can use Cocospy to track the Kik messages on an iPhone without accessing the device.
For this to work, you need to know the iCloud account details of the user and their Kik backup for iCloud should be enabled.
Once the setup of the Kik hacking tool is done, you can access all the exchanged Kik messages with their timestamps.
You can also access all the shared photos, videos, and other files that are saved via Kik on their iPhone by visiting your Cocospy control panel.
The application can further help you track other details like their contacts, call logs, messages, WhatsApp, saved media, and more.
How to Protect Your Kik Account from Getting Hacked?
As you can see, it is pretty easy to learn how to hack a Kik account without getting detected. Hacking a Kik account is not too hard to do, but there are some precautions that you can take. For example, if your goal with the hack will be using it online in real life or taking pictures of yourself for social media then make sure they're not detectible by following these easy steps!
To protect your phone from being hacked, always make sure it's within reach and keep the screen lock set up.
You can also install an anti-malware or spyware app to ensure that there are no vulnerabilities in software on board with potential hackers looking for ways into devices via these apps' notifications feature which often serves as a route into hacking accounts without users realizing until its too late!
Security is important so avoid connecting your device to any public network or computer.
Don't tap on links from unreliable sources that are forwarded by anyone on Kik, as this can compromise with their security too!
Lastly make sure you always use different passwords for each account and disabled the auto-saving feature in case someone steals information about one of these accounts after login
Frequently Asked Questions
1. Do I Have to Root the Target Phone to Install a Kik Hack App?
The type of Kik hacking tool you are using will determine whether or not root access needs to be gained. Most advanced trackers like EYEZY don't require it, but some might still benefit from having this level of permissions on your phone's operating system
2. Are There Any Working Kik Online Hacks?
You may be one of the many people who have been trying to log into your account on Kik, but are met with an authentication error. This is because most online passwords hackers for this app will ask you unwanted surveys in order gain access instead! Luckily there's another way around it – use our list if helpful tools below; they'll get them straight back up and running within no time at all
3. How to Hack a Kik Account with No Survey Option?
To hack into a Kik account without undergoing unwanted surveys, you can use any reliable device tracker. These popular apps are mSpy and uMobix among others that will help provide the information needed for an access granted by no one else but yourself!
4. Will the Other User Know that I'm Tracking Their Kik Messages?
No, most of the Kik hacking apps these days (like mSpy or Spyic) come with an inbuilt stealth mode. This means once you have enabled the stealth mode, you can track their Kik chats without being detected.
But there are some apps that allow you to track your ex-partner's chats without them knowing.
The newest trend in surveillance is the use of secret software, like mSpy or Spyic which can be installed on someone else's phone and used for monitoring their social media messages without them ever suspecting anything fishy going down!
There you go! I'm sure that after reading this post, you can easily learn how to hack a Kik account with no surveys or other unwanted hassle. Although there are several Kik online hack tools out there, most of them will not yield reliable results. Therefore, you can consider these tried and tested Kik hacker apps that I have listed in this post. If you want, you can further explore these Kik messenger hacker solutions as they offer a free demo on their websites as well.
I hope after reading this post, you can easily learn how to hack an online account on Kik without surveys or other unwanted hassle. Although there are several tools available for hacking kik accounts with somewhat unreliable results; however if one goes through my tried-and tested list of apps below they will find many reliable ones that work well in obtaining access immediately into any target's private messages database (including videos).